Even on a damp dreary day in April, Shobha Vanchiswar's home is bright and inviting. Flowerboxes are brimming with sunny yellow daffodils standing attention above blue and orange pansies. The front walkway is sprinkled with spring blossoms and a pot of hydrangea welcomes you at the front door.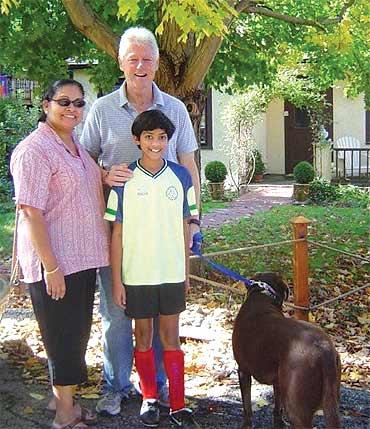 Vanshiwar is a garden designer extraordinaire and writes a weekly column for her town's local Internet publication entitled, "In the garden with Shobha Vanchiswar," but gardening is not her only forte. Vanchiswar is a molecular scientist, an artist, and has been passionate about poetry her entire life. It has been her dream to use her talents to help others. While she has always been involved in community service, Vanchiswar told me she wanted her family to get involved in a bigger way. She feels fundraisers are not the answer because, she insists, the money spent on the event should go directly to the cause. "I want to use what I do normally in life to make a difference," she explained, " it's the power of one."
And with that in mind, the scientist/artist/ poet has now become an author of a book of poetry and images of orphans in her native India; a project aimed at raising money directly for children inflicted with HIV or the AIDS virus.
Vanchiswar admits she could not have accomplished this venture without the help of another resident in her hometown of Chappaqua New York; namely former President Bill Clinton.
"I was folding laundry one day and watching him (Clinton) on TV." The way Clinton spoke about the AIDS Initiative of the Clinton Foundation, and getting money and medicine directly to those who need it gave her goose bumps. "I'd never seen a person of that stature talk about what's going on in MY head!"
While it was not unusual for Clinton's daily exercise routine to take him down Vanchiswar's street, it was a bit cosmic that he picked that same day to walk right by her house.
"I flew out of the house, camera in hand," she gushed as she held up the picture of her, Clinton and her daughter Mira. This was in the fall of 2007 and Vanchiswar was planning a Thanksgiving trip home to India. She explained to the former President her desire to help with the AIDS Initiative in her native country and he not only listened, he orchestrated her entire experience. At the request of the former President, foundation officials worked around Vanchiswar's itinerary to set up visits with the Asha Kirana Hospital in Mysore and two orphanages dedicated to treating children with AIDS or who are HIV positive.
After meeting the children who danced and sang for her, Vanchiswar knew she had to do something. "They were all orphans whose parents had already succumb to the disease … they were in orphanages where no one will adopt any of them."
So the artist pooled her skills and took pictures of these bright eyed children and created a poem from her heart to go with each photo of the beautiful, vivacious orphans who had changed her life. She put the poems and images into a book and, while it may seem ironic, she called it "The Lucky Ones." The author maintains she was intent on "creating an awareness in a hopeful kind of way, rather than by showing sad stories…I didn't want people to feel they can't make a difference," she explained.
Chapter One
"Hope 1."
"I learned about hope today
from ones thought to be
hopeless."
Vanchiswar glows when she speaks about the children in her photos, their vibrant faces lit with brilliant smiles. "They seem just like regular kids," she insists, and Vanchiswar credits the Clinton Foundation for making that possible by providing the medication these children so desperately need. This is also why she calls these children, and her book, "The Lucky Ones."
"What is so lucky
about my strife
I am fed and clothed
I am medicated for life."
The author marvels at how Clinton took the time from his busy schedule to help her, and it's a gift that keeps on giving. Vanchiswar has published 300 copies of "The Lucky Ones" and Bill Clinton promised to personalize 250 of them and he has already signed more than 100 copies. They are being sold through the New Castle Historical Society in Chappaqua, New York and Vanchiswar says nearly half of the copies may be sent to the Clinton Presidential Museum in Little Rock, Arkansas. The sticker price is $24.95, and many people are contributing more than that since all of the proceeds go directly to the AIDS Initiative of the Clinton Foundation.
"WE CAN CHANGE THE WORLD"
It is Vanchiswar's belief that anyone can make a difference simply by using the talents and passion she or he already possess; and when you sit down and talk with this inspirational woman you believe her. "We're in a community where people have exceptional qualities," she states as a matter of fact, "If we all pull our talents in, we can change the world."