I just returned from a fabulous week in New York City.
I've been fortunate enough to meet some fantastic people there during the past few years that have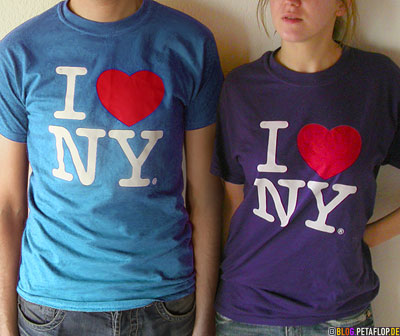 turned into lifelong friends.
Like the t-shirt says "I LOVE New York"
The stereotype of what New Yorkers are "really" like is simply not true. There are many great people and neighborhoods in New York; I strongly believe you will always find people that reflect the energy you are giving off.
Although I had been warned by many (some who have never even been to NYC), to stay away from Brooklyn, I decided to give it a try.
I am ever glad that I did.
I stayed in the beautiful area of Williamsburg, an area where people talk to each other on the street, and yes even....smile. For the most part, it is filled with many privately owned coffee shops, restaurants, drug stores, and unique shops.
In a word it is a "real" community, with "real, genuine" people (aka.. leave the attitude when you cross the Williamsburg Bridge).
On Wednesday morning I awoke, after spending a fantastic full day with a great friend, and decided to take a stroll in search of my morning coffee.
I found a bagel place that was bursting with energy and decided to give it a try.
Up on the wall behind the counter was a big sign that read "Welcome to Brooklyn".
"Welcome"......hmm...that's a word I don't hear that often.
I stepped inside to watch a well choreographed "dance" of customers ordering, orders being called out, and people shuffling. I was a little scared to "interrupt" this dance, as I didn't know any of the "moves".
Picture, the scene from the "Soup Nazi" episode from Seinfeld, only much friendlier. I thought if I screwed up someone would call out, "NO Bagel for YOU!"
That's when "she" appeared.
The lady behind me picked up on my confused look and offered to help. She explained the "dance" to me: pick your bagel; order what you want on it; shuffle to the left; order your coffee; pay and wait for your order to be called out.
I thanked her for her kindness for saving me, and she smiled back and said, "Welcome to Brooklyn" just like the words on the sign.
After completing the "dance" I found a place to sit down, enjoy my breakfast and dove right into the newspaper. Moments later, my "friend" tapped me on the shoulder to say goodbye and wished me a great day, and off she went.
Well, five days and five hundred miles later I'm back home, thinking about how this "stranger" totally made my day, not to mention that I've already told this story a few times.
To my "friend" in Brooklyn, thanks for reminding me about the the "Golden Rule" of treating others the way you would like to be treated.
And yes, I will be staying in Brooklyn on my next trip to the Big Apple.